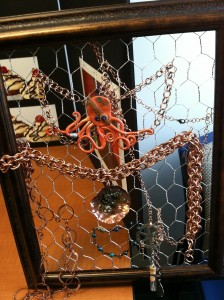 In regards to the class, overall:
I am so happy that I took this course as an extra before graduating. As someone who enjoys creating, I was introduced to an array of new things that I absolutely loved (and know I will continue on with). Hopefully I'll have the opportunity to take another one of Trish's courses in the future!

This was a very hands on class, something that I think is needed in the college curriculum. The class structure was great. We critiqued our work in a positive way and worked with other classmates to get input on our work. This class has been one of the best classes I have taken. The instructor has extensive knowledge in her field.

I enjoyed this class a lot.

This class ended up being much more than I had expected. I had thought there would be a lot of beading and stringing, but we also learned a lot of advanced techniques. I was really excited to learn chain mail, and all of the metal working was really great. Everyone in class came up with amazing work, and it was really cool to see which things people were interested in and how everyone took the concepts we learned and created such amazing collections that were all so different.

I had a lot of fun in this course. I had originally taken it as a filler but learned a lot about jewelry. The teacher was excellent as well, she made it easier and fun to learn. It also challenged me quite a bit in certain areas of it. I liked that because I like a challenge.

This class was very fun and very much the stress reliever that I needed. I would really love to take another one of her courses.
In regards to Trish's instruction:
Trish is an amazing instructor; not only does she go above and beyond to introduce an array of techniques that encourages exploration, but she does it with passion. She is someone who I looked forward to learning from and she was always available for feedback, answering questions, etc…

Trish is an outstanding instructor with valuable knowledge in her field. She keeps the class upbeat and helps in anyway that she can to encourage the work that we did in class. I enjoyed this class so much that I hope to take more classes with her in the future. Trish has inspired me to learn more in the arts.

Trish is an amazing instructor and I am glad I got to have her as a instructor.

Trish is a great teacher. Not only is she always available for questions and help, but she constantly pushes students not only to do their best work but also to push the limits of their creativity. So much of the stuff I did this semester I never would have been able to do without her encouragement.

She is awesome about answering any questions you have for her. She will give you feedback about your work to help you improve it some. She will help you out until you understand something.

Trish was an amazing instructor. She was very helpful and encouraging when it was needed and she pushed me to do my best.