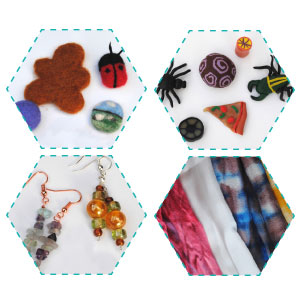 Come play with all four art & craft techniques in two hours!
Get a taste of each workshop we currently offer:
Silk Scarf Dyeing – Learn the art of folding & kettle dying silk! You will hand tie, bind and dye a luxurious silk scarf.
Beaded Jewelry – Learn to make beaded jewelry by creating a pair of earrings!
Make Your own Beads – Using polymer clay, you will create different beads & trinkets for jewelry making.
Needle Felting Basics – Poke and jab wool with a sharp needle to form your own ornaments, sculpture or needle felt painting.
Two people, two hours, four craft mediums – $300